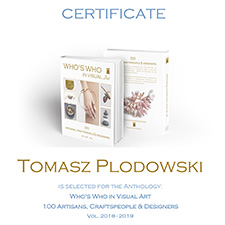 08
2019
We have just received the materials from the publisher of the book: "Who's Who Visual Art 2018-2019", so we can present them on our website.
The book includes four pages devoted to T. Plodowski jewelry collection and an outline of the author's oeuvre.
The publication's editor Hannah Ullmann contained in the album information about the original, the most interesting designers and their works - searching artistic circles from several dozen countries from around the world.