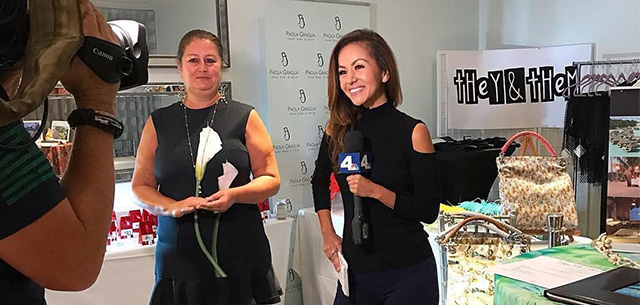 Nathalie Dubois Annette Arreola NBC LA - TV4 NBC
Emmy Nominees and Stars Enjoy the Pre-Awards DPA Luxury Talent Lounge
09/20/2017 10:05 pm ET
Nathalie Dubois has been very successful in running the entertainment strategy company - DPA (Dubois, Pelin and Associates). Based in the entertainment mecca of the world - Los Angeles, Dubois also hosts luxury talent lounges in France, the Middle-East, and has recently opened a branch in Japan.
The Pre-Awards DPA talent lounge has seen scores of celebrities over the years which include guests such as Sharon Stone, Matt LeBlanc, Viola Davis, Angela Bassett, Anthony Anderson, Katherine Heigl, Nia Vardanos, Julie Delpy, Paris Hilton, Darryl Hannah, Alfre Woodward, Hunter Parrish, Jackie and Joan Collins, Bonnie Sommerville, Joely Fisher, Tony Denison, Natasha Henstridge, Annalynne McCord, Madeline Zima, Guillermo Diaz, Jimmy Jean Louis, Tichina Arnold, Julie Benz, Eric Roberts, Vanessa Williams, Sarah Mc Laughlan, Ashley Greene, Terry O'Quinn, and the list is endless.
Here's a glimpse into the Pre-Awards DPA Luxury Talent Lounge from the Luxe Hotel on Rodeo Drive in Beverly Hills.
Guest List
abigail pionswki, 10 days
al jean , prod the simpsons
alessandra mastronardi (master of none)
alex rudzinsky, hairspray live direct
alexandra billings and wife crisanne (transparent)
aliyah moulden, the voice
allen maldonado, show nom "black-ish" (abc)
allison and chloe coleman
allisyn ashley arm, astrid clover
alyvia alan lind, dolly  show nom and her guest  barbara alyn woods-( one tree hill)
ann dowd, nom*handmaidstale sup actress
barbara alyn woods, one tree hill
barbra held, prod emmys
benjamin weiss, and howard barish prod 13th
born this way cast: john tucker, rachel osterbach, sean mcelwee
brandon k. hampton plus partner sarah better call saul
bruce dern, netflix with redford and fonda f
bruce miller and wife. prod handmaid
camille hyde, american vandal, netflix
cara buono
carly gibson, the guest book
casey burke, the middle
chelsea werner  athlet down syndrome 1030
christa dallas
christian lanz, voice over
christopher jacksonhamilton, currently starring in bulland performer
cornelius smith jr, scandal
dale stern, direct veep
dalton cyr, pretty little liars
darcy rose byres (elena
dee bradley baker, american dad
denise boutte, meet the brown
denise burse, Greenleaf and black mirror
denise crosby  ray donovan
dennis quaid, american crime (versace crime) and presenter
dominic burgess, feud
dylan riley snyder influencer
eddie perez, won creative emmys for shameless
elise doganieri, amazing race nom
eliza jay schneider south park show nom +2 (no gifts)
erica lutrell, salvation
felix solis, lead 10 days in the valley
fred willard, modern family show nom
gavin stenhouse and his wife, jess,show nom. black mirror
geoffrey colo, marvels prod
georgia pritchett writer veep
giancarlo esposito, better call saul
gillian estell, black or white black or white
hannah norberg, dolly
hans charles - nominated this year for an emmy award for 13th cinematographer
helene segara, big french singer
hiro murai, atlanta
iain armitage, plus 2 big little lies and presenter and new show young sheldon
minjin altansukh- actress and internet personality/social influencer
ijoey luthman influencer
allisyn ashley arm influencer
ivy george (big little lies) *
jaffe cohen, prod feud
j lee, the orville
j. lee, orville
j. mallory-mccree, homeland
jade petty john, school of rock
jaffe cohen, cretor feud plus michael zam
jake busey, ray donovan
james dumont law and order
james hillier the crown, show nom
jeff meacham blackish
jenny gabrielle only the brave lifetime
jim armogida
jim armogida
jmallory mc cree homeland
jocko sims (masters of sex, i'm dying up here) from tnt's the last ship
john savage and blamca blanco
john tucker, born this way
john weber
jommy jean louis ,claws
joseph boccia, prod handmaid
joy nash, star dietland
jude normand, 230 seal team
karibel rodriguez, the last ship
kat khavari ,big little lies
kat khavari, big little lies
kate denis (1030) direct nom handmaid
kate linder,
kelsey scott , nom fear the walking dead
kelvin yu, bobs burgers and master of none
kim estes
kim estes, emmy winner short
kim wannop, emmy winner
kira snyder
kristal vip for nath *
lauren adams, unbreakable kimmy
lawrence bender, kill bill prod and new tv serie
lee metzger, ep the voice plus wife michele?
leslie jone,s nom and snl
lorenzo soriasand lila
lotte verbeek (outlander)
lyndon smith(white famous) and katrina bowden (30 rock)
mandy moore, choreographer , nom and winner
mark armstrongnight of
mark porterfield, fear the walking dead prod
mary mouser, scandal
melanie mosley the guest book tbs
melora hardin transparent
melora hardin, transparent
michael zam, creator feud
mindy sterling, double nominee best actress short form comedy or drama
ming na wen, agent of shield
mo collins, nom
mo collins, nominee best voice actor "f is for family"
molly hagan, dr in big little lies 
morgan sackett, pm
nathan ross- jean marc vallee, big little lies
nbc shoot very very early (call time 430am for some brands)
nicole allowitz, stylist access hollywood
nigel lythgoe, ep nom
nina kiri will be attending with a guest, morin gougain the handmaid
nisha ganatra, better things direct and prod
noah pink, creator genius
noelle bercy
patrick sabongui "the flash" and "homeland"
paul simms, atlanta ep
peter mackenzie black ish show nom
peter macon (shameless, bosch) from seth macfarlane new fox series the orville
phoebe neidhardt and her guest marissa upchurch sillicon
raymond mcanally, black mirror
ross marquand, the walking dead
ruby imes, school of rock
ruby imes, school of rock show nom
sam rubin, channel 5
samuel baum, wizard of lies writer
sandra vidal  bold and beautiful
shaun toub, homeland
skylar gray - cbs newest show "me, myself & i"
sonya balmores, star inhumans
stefanée martin , the get down
steve armogida plus wife
steven bauer, ray donovan
sundiata gaines nba salt lake==
susan sarandon, nom, nath does tour
susie abromeit, jessica jones
suzanne scryer
tamberla perry
teo cohen and georgia pritchett, writers prod vepp nom
travis willingham, sofia
tyler lepley, the have and have not plus lana pr
vanessa j marshall, voice star wars
vernon sundiata gaines is a nba allstar who has transitioned into acting
viola davis, nom and julius tennon husband
yolanda ross, the get down, the chi
yvonne strahovski in handmaids tale trip bali per laura
zachary arthur, transparent

Tahaa trips
Fred Willard, modern family
2. Nigel Lythgoe, nominee American idol…
sam baum, writer wizard of lies
jean marc vallee, emmy winner Big Little lies director
leslie jones, snl
Dennis quaid, presenter
7.cara Bueno, stranger things
8.ian Armitage big little lies and young Sheldon and presenter
9.susan Sarandon, nominee feud
10.anne dowd, nominee and winner handmaid's tale
11. steven bauer ray Donovan (j ai pas donne 11 mais j ai merdouille sur un nom)
Soori bali Trips
Jean marc Vallee, director Big little lies, emmy winner
2. Dennis quaid, presenter
3. Lotte Verbeek, outlander and blacklist
Yvonne strahovski, handsmaid tale
Giancarlo Esposito, Breaking bad
6. Viola davis, nominee best actress
leslie jones, nominee from Saturday night live
jimmy jeasn louis from heroes and Claws
Nathan ross Producer Big little lies
steven bauer, scarface and ray donovan
Oregon trips
kate dennis, winner handmaid tale director
hans charles, cinematograpger emmy winner for 13th
3. suzanne cryer, silicon valley
james hillier, the crown
peter mc kenzie, blackish
kevin yu , bobs burger
jmallory mc cree , homeland
jake busey, ray donovan
yvonne strahovski, handmade tale
noah pink, genius creator or dominic burgess feud  (forgot which one)
medias who came
NBC Today in LA , aired 4 times
Silvia Bizzio
*KTLA giveaway
Preity. Santa Monica Observer
Jesus Figueroa plus camera
Joy parrish, rich girl
Jodi jackson
Erwin Glaub, the experience
JETSET MAG, Nicole muj
Bonnie
Federica volpe
Effie magazine
*L empereur magazine
Gotham
Jetset
*Chris gardner thr